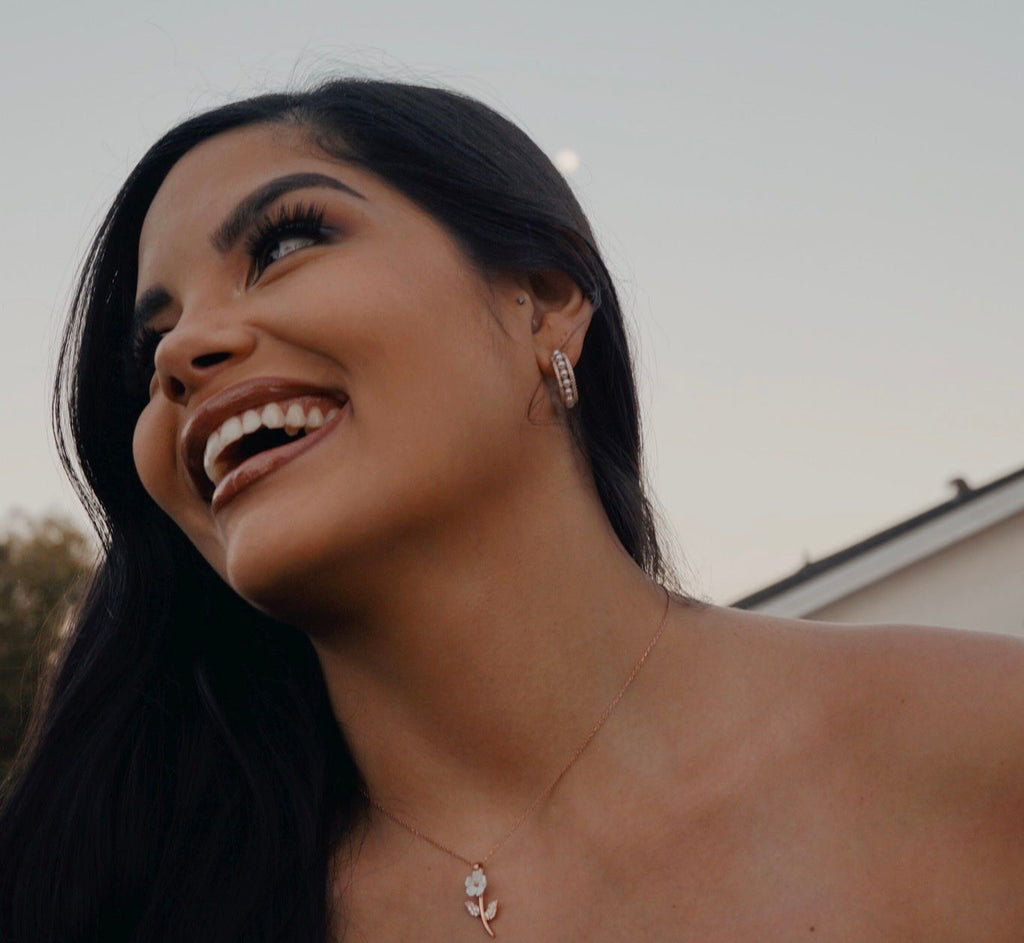 Discover Pearls
Pearls exude an ambiance of tranquility, as they are much revered beautiful treasures from the sea. Pearls are sought-after for their prestige and glamour, appreciated worldwide. Remarkable with their shimmering overtones, unique shapes, and breathtaking body color, pearls are unlike any other gemstone or mineral.
Each pearl is such a precious gift to own--no two pearls are exactly alike. Pearls are most commonly beautifully matched into a uniformed row or placed on a hand-strung knotted strand, complementing the pearl next to it in pleasing harmony.
Pearls represent classic elegance and sophistication, a bold statement displaying effortless confidence with their eye-catching presence. Transcending trends and fashion fads that come and go, pearls are a mainstay, must-have for any fine jewelry collection.
Mini Pearls: Maximum Glamour
These c-hoop earrings showcase a single row of white mini pearls that call to mind perfect days spent outside with sunny shores and swaying trees. Vintage elegance with unique artistry--these pearls are thoughtfully framed by sparkling round brilliant cut high-quality cubic zirconias placed on each side, creating three decadent rows of vibrancy and shimmer.
Eco-Friendly Elegance
Eco-friendly, thoughtfully sourced, and environmentally conscious materials gracefully blend, creating these mini c-hoops with post butterfly backs for pierced ears. Rich in color with a bright shine, each hand-crafted pair of small hoops feature painstakingly set pearls and sparkling cubic zirconias in an ornate triple pattern.
14k Gold Plated 925 Sterling Silver
Choose from our menu of 14k yellow gold, 14k rose gold, or 14k white gold plated options. These petite c-hoops are finely crafted with authenticated 925 sterling silver, covered in a rich, thick coating of 14k gold plating for a luxurious finish that will last a lifetime.
These eco-friendly materials are free of toxic alloys and materials. Soft on the skin yet durable and hard, wear these eloquent handcrafted earrings frequently for effortless style. These alluring earrings are guaranteed not to pit, discolor, chip, corrode, or tarnish.
Wearable luxury utilizing fine quality details with imaginative craftsmanship and natural elements.
Hypoallergenic, non-toxic

Genuine pearls

Handcrafted and unique.

Hand made in Turkey.