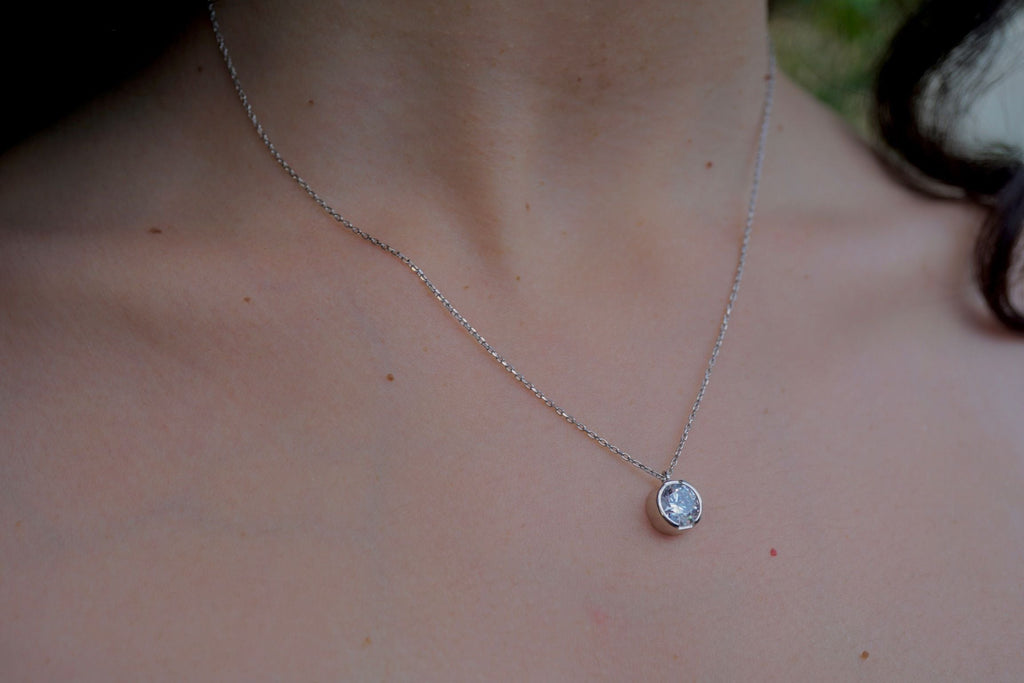 Sparkling with a Single Stone
Single stone jewelry is called solitaire styles that feature a stone du jour or a chosen/favorite stone expertly placed in secure prongs or encased in a bezel setting, for example.
A single stone seeks to captivate with understated elegance, drawing the eye to its stately presence as it sits gracefully nestled in the design. Timeless and classic, the solitaire showcases a never-ending versatility with its smooth, clean lines, placed into prominence as a solo act on any piece of jewelry.
Modern Cubic Zirconia Bezel Pendant Necklace
Our contemporary bezel solitaire necklace features a sparkling round brilliant cut high-quality cubic zirconia in a high recessed shiny bezel frame. This bezel pendant has a tiny ring bail on top with a slinky chain threaded through, making this striking solitaire necklace ready to wear and enjoy.
A spring ring clasp and adjustable extender chain placed on the back gives this delicate necklace added versatility--layer it with other necklaces with its effortless length accommodation.
Rhodium-Plated 925 Sterling Silver
A rich rhodium-plated finish adds life and durability to this 925 sterling silver necklace. Rhodium is an alloy often used to coat jewelry, giving it incredible shine that resists scratches with an extra layer of luxury plus a dose of everyday practicality.
925 sterling silver is one of the most popular fine metals. Enjoy the wearability of 925 sterling silver or 92.5% silver. The remaining 7.5% is most commonly copper alloy, giving the silver added hardness.
Renewal of Life with Recycled Materials
This non-toxic necklace is thoughtfully handcrafted using all hypoallergenic materials, perfect for wearing daily. Appreciate the handcrafted beauty of each of these solitaire pendant necklaces made to be eco-friendly and socially-conscious using reputable suppliers.
Hand made in Turkey.
Rhodium-plated 925 sterling silver.
Contemporary design.
Non-corrosive and anti-tarnish.