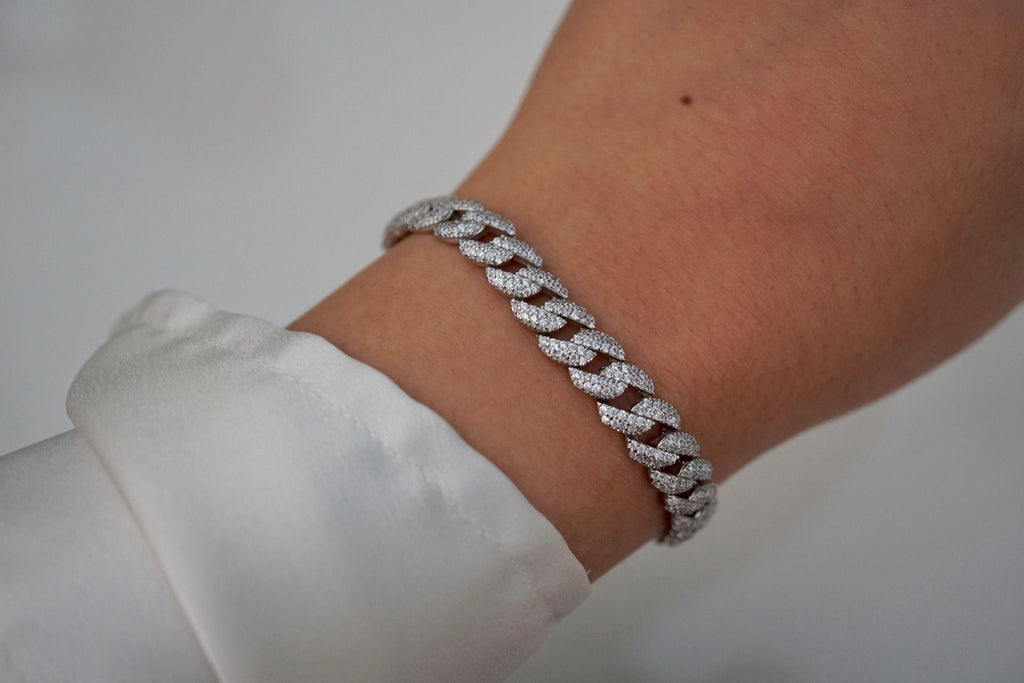 Handcrafted Recycled 925 Sterling Silver Cuban Bracelet
Handcrafted with love and attention to detail, we present our striking Cuban link bracelet in a variety of luscious rhodium-plated colors.
Classic statement glamour thoughtfully reimagined into innovative artistry utilizing only recycled materials--good for the environment and even better for you--hypoallergenic and non-toxic metals that are soft on the skin and do not cause irritation when worn.
Each repeating curb link is configured beautifully, gracefully sitting next to the identical link beside it in a wondrous uniformed row.  Pleasing geometry for you to enjoy as it elegantly cascades on the wrist when worn.
A secure lobster claw clasp and extender ring link chain accommodates your chosen wrist size with ease, perfect for gift-giving if desired.
925 Sterling Silver
Our bracelets are created using 925 sterling silver. 925 sterling silver is known as 925 parts per 1000, meaning 92.5% silver. The remaining 7.5% consists of mostly copper alloy. Durable and hard, silver is one of the most popular noble metals used for jewelry.
14k Gold Plating: Modern Luxury
Available in prestigious rose gold plating, yellow gold plating, and rhodium plating, these bold links shine with intense colors, rich in saturation. Gold plating refers to a process where the base metal is coated with another metal, usually a designated carat (14k, 18k, etc.), color gold, or rhodium (a silver/colored alloy).
We guarantee longevity with our gold-plated designs: cherish your purchase for a lifetime as it looks pristine year after year. These fine quality plating options offer full coverage on our 925 sterling silver base that will not corrode, pit, tarnish, chip, or discolor.
Fire in the Sky
Indulge in a handcrafted jewelry design that is anything but ordinary. Gorgeous, brightly polished links sparkle with high-quality cubic zirconias that are French pave set from end to end in a never-ending row eternity style, dusting the top of this handmade bracelet like stars in the sky.
Cubic zirconias provide an excellent socially-conscious, man-made alternative compared to some other natural stones. Showcase stunning fire every time you adorn yourself with our inspirational Cuban link bracelet.
Thoughtfully hand-designed in Turkey.
Made for your modern lifestyle.
Wear anytime.
Eco-friendly materials.