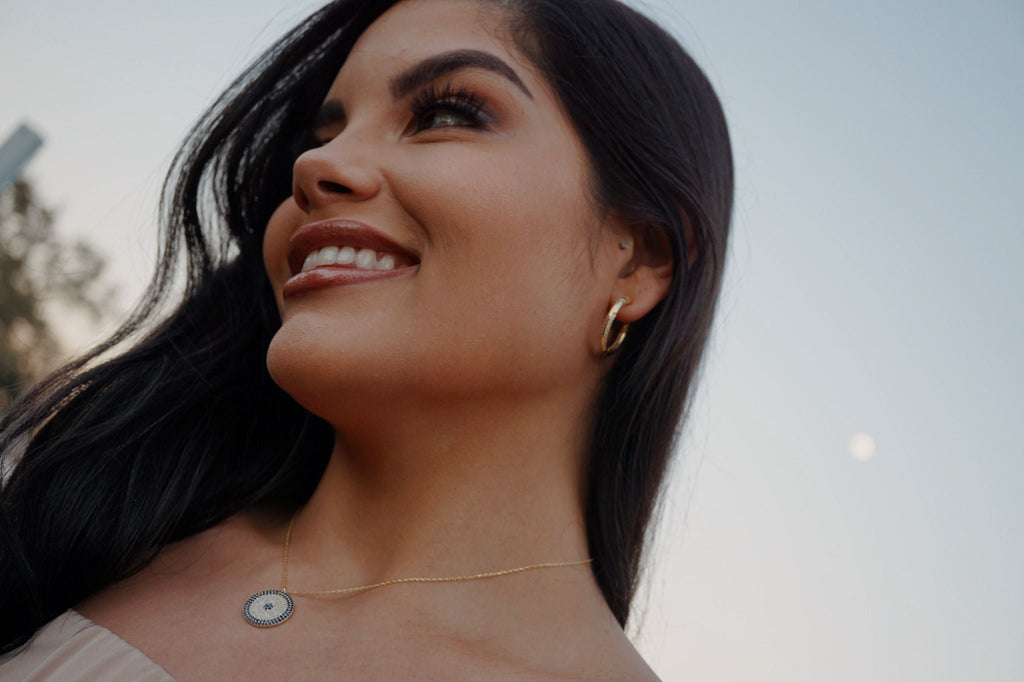 A Powerful Cultural Talisman
The evil eye has a history entrenched in various cultures worldwide, enjoyed today by everyone mesmerized by its captivating, distinctive design.
The evil eye is sometimes referred to as the all-seeing eye, a powerful talisman that wards off unseen evil and negative vibrations. The evil eye returns bad energy to the jealous sender, bouncing off the targeted recipient who continues to enjoy abundance, harmony, and success, unbothered and undeterred by backstabbers and naysayers. Meanwhile, the hidden/known enemy suffers from their bad deeds from the presence of the evil eye.
Wear the evil eye daily for a dose of good luck and good intentions--showcase your inner confidence in luxurious style with our eco-friendly evil eye pendant necklace.
Evil Eye Medallion: Fire & Shine
This handcrafted flat round medallion pendant features sparkling cubic zirconias pave set on the front, arranged in a concentric evil eye, amplified in the rich gold-tone finish.
We are proud to offer different colors and styles. Select your favorite stone colors for an enchanting look that is personal to you. Perfect for layering with other necklaces or worn solo, effortlessly implement this stunning evil eye pendant into your day or night attire, fusing fashion, mystery, and culture for an eclectic blend of personal details.
Cubic zirconias present an eco-friendly, environmentally-conscious, man-made alternative that is beautiful, glistening, and vibrant. Looking luxurious has never been so freeing--enjoy the fire of cubic zirconias and know you have chosen something that is not harmful to the environment or for the earth.
Hypoallergenic Materials Reimagined & Brand New
Our handcrafted evil eye pendant necklaces are imagined with hypoallergenic materials and non-toxic metals, soft on the skin.
Each gorgeous pendant has been creatively designed to reflect sustainability and style without harm to the earth.
The thick, rich gold-plating will not corrode, pit, or tarnish over time.
Handset cubic zirconias.
High-quality materials.
Unique designs.
Hand made in Turkey.